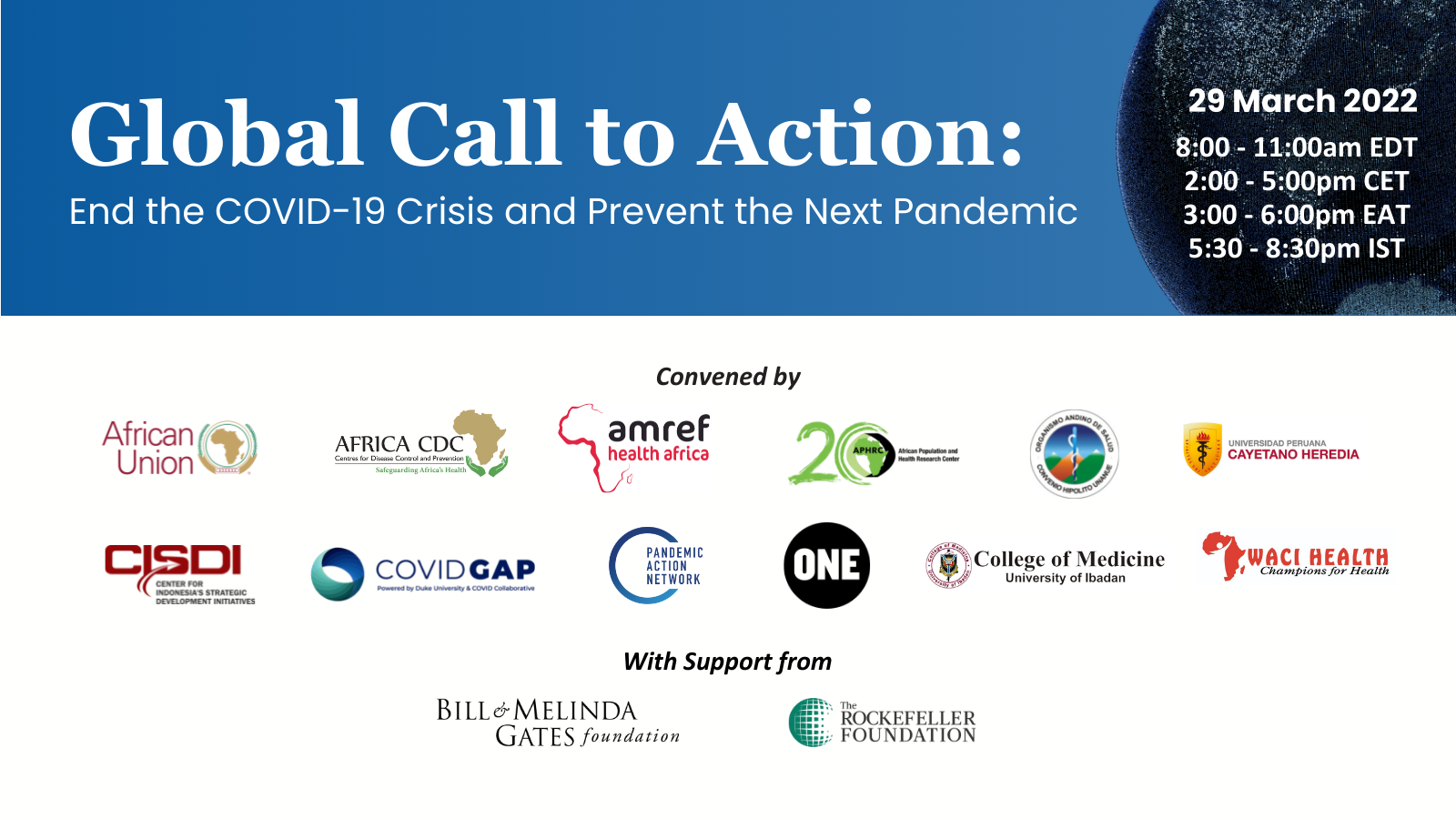 Global Call to Action: End the COVID-19 Crisis and Prevent the Next Pandemic
29 March 2022
8am-11am ET, 2pm-5pm CET, 3pm-6pm EAT, and 5:30pm-8:30pm IST
The rapid global spread of the omicron variant has transitioned the pandemic to a new phase that requires updating our strategy and priorities in order to ensure a more effective — and equitable — response.
Vaccination inequities persist with staggering differences in vaccination rates in low-income countries compared with high-income countries. The primary role of vaccinations with current vaccines has become the prevention of severe disease, hospitalizations, and death — and protection of health systems — rather than full prevention of infection. Furthermore, there is growing recognition that full vaccination for many populations should include a third dose and future boosters. At the same time, new promising oral antivirals are becoming available, though with risks to global access and equity due to constrained supply, delivery, and financing for treatments and timely testing in most low- and middle-income countries (LMICs).
The multilateral COVID-19 response continues to lack adequate resources and lacks clear prioritization of how limited resources should be allocated. Complementary bilateral and private sector efforts have also not achieved the scale or urgency required for an effective global response. Many high-income countries are declaring an end to the pandemic and returning to a more "normal" time, further risking sustained global commitment for country-led pandemic responses in LMICs. With limited external support and pressing health needs, many LMICs are turning to steps to strengthen their community health systems, manage serious COVID-19 complications, make up for lost ground on other preventive care and vital medical services, and avoid such external dependencies in future public health emergencies.
The COVID Global Accountability Platform (COVID GAP), led by Duke University and COVID Collaborative, and Pandemic Action Network are co-hosting a joint virtual convening together with: Africa CDC; African Population and Health Research Center;  Amref Health Africa; Andean Health Organization; Center for Indonesia's Strategic Development Initiatives; College of Medicine, University of Ibadan; School of Public Health, Cayetano Heredia University; WACI Health. This event is convened with support from the Bill & Melinda Gates Foundation and The Rockefeller Foundation.
Click here to register for this joint virtual public convening.