A coalition of 80 global leaders and over 25 organizations across corporate, philanthropic, civil society, advocacy, academic, and health sectors called on world leaders attending the United Nations General Assembly this month to convene a global summit to ignite an urgent global action plan to end the pandemic, including vaccinating 70 percent of the world's population by mid-2022. The call to action was coordinated by the COVID Collaborative, Duke-Margolis Center for Health Policy, Duke Global Health Innovation Center, Duke Global Health Institute, and the Pandemic Action Network.
"We need a comprehensive response to the current crisis, which will also strengthen health systems and preparedness for the next pandemic. We are in a race against time. Without immediate action, there will be millions more infections and deaths, and new variants could emerge and pierce vaccine immunity," the statement said.  Read the full call to action here.
COVID Collaborative was invited to participate in the September 22 Global COVID-19 Summit, hosted by the White House, and submitted a statement, endorsed by Mark McClellan, Michael Merson, and Krishna Udayakumar, outlining COVID Collaborative's commitment to the summit targets and the specific actions it will take to end the pandemic and build back better, including developing with Duke University a robust and comprehensive accountability platform.  Read the full statement here, more about the targets and the importance of implementing these measures as soon as possible.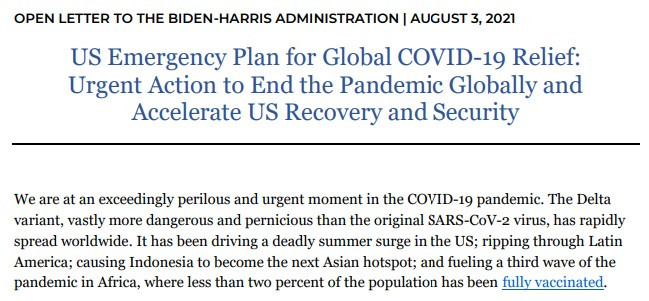 Read the previous Chapter in this story

Read the next Chapter in this story